The functionality and design are not irreconcilable in the decoration of the public spaces. The plastic benches for gardens from Grup Fabregas are a good example of this. Ecological and respectful with the environment, our articles Modo and Alvium offer high levels of resistance.
Our plastic benches for gardens can withstand the solar radiation and the degradation of coastalenvironments. They do not present oxidation and they are more hygienic, since it prevents the proliferation of fungi and pests.
Spanish municipalities likeBarcelona or Cambados have already placed their trust in us to beautify and give functionality to their urban environments.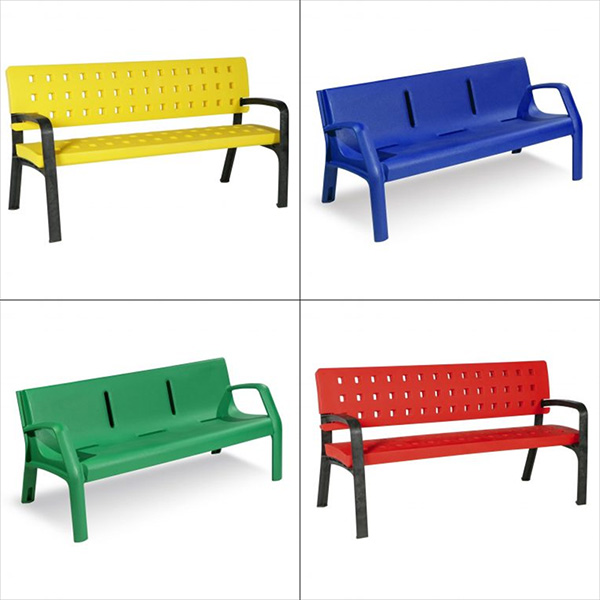 High quality polyethylene
The plastic benches from Grup Fabregas are made of polyethylene of great quality. A material that is used in a multitude of consumer products. And we took their manufacture at the highest level to make them more resistant while attractive too.
Modo Range
The items of this range measure 1.7 meters long by 0.88 high, with a surface of 39 cm. The platform and the back are drilled to provide aeration.
The Modo benches from Grup Fabregas are treated against UV rays, they do not rust or require maintenance. Are available in six colors: Blue RAL 5005, Gray RAL 7040, Red RAL 3020, Green RAL 6029, Yellow RAL 1021 and Mahogany.
Alvium Range
Our Alvium benches measure 1.7 long by 0.76 meters high and have a seat surface of 49.5 centimeters with concave design to increase your comfort.
They are ecological and recyclable, economic and durable, they require no maintenance and also have an antigrafitti treatment very easy to clean. They are also available in nine colors: Blue RAL 5005, Gray RAL 7039, Red RAL 3020, corten Brown, Orange, Green RAL 6029, Acid Green, Cobalt Blue and Yellow RAL 1021.
We are at your disposal to answer the concerns of our clients through our contact section.