The communal swimming pool is no longer sufficient in the apartment blocks, urbanizations or villas. Now, the neighbours ask for something more: paddle courts to enjoy elders and youngers.
If we had been told a few years ago we wouldn't have believe it, but we have to admit that paddle is a sport that has come to stay.
Why has paddle caught on so much and become the perfect way to do sport for many? Some point to its ability to help socialize and that it is a sport that can be practiced by people of all ages. At the same time, it does not require a structure too large or a very expensive material to practice it, so it is available to everyone.
Where to buy paddle courts?
In Grup Fábregas we offer our customers two different models of paddle courts:
1. PRO Panorama. It consists on a metal structure made up of tubular steel profiles and electrowelded fence. Its name is because its transparency allows you to have panoramic views while playing to enjoy the enclave with its 10mm crystals. At the same time, its anti-injury system prevents improper accidents with the tips, as it protects them. It is a track that complies with the Regulation of the EFF (Spanish Paddle Federation).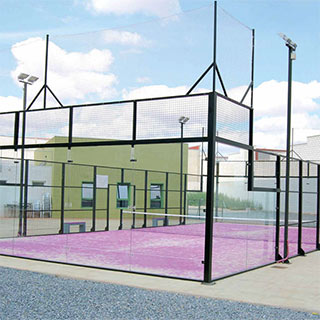 Learn more about our product features as well as optional items that can be added to it
2. MOD Eco. It is a metallic structure lacquered in any colour of the RAL chart, with electrowelded fence. It also features 10mm glass, 3mm nylon net and 12 m sporty green artificial grass. It also meets the requirements of the EFF.
We offer the option to add LED spotlights, perform it in special measures, wall track and more.
More than a passing fashion, the paddle courts have become the place to release stress and escape from the routine, while exercising our body and having fun with friends.
If you want to ask for a quote or know more about our paddle courts, please contact Grup Fábregas.