After the summer period, when the concurrence of people on the beach already has a clear downward trend, it is time to do the cleaning and maintenance in depth. Among the main tasks, there is the checkup of beach equipment.
When we talk about beach equipment we mean all the urban elements that allow us to potentiate the most natural spaces. This also includes everything that is part of the promenade and surrounding areas.
Taking care of these spaces is essential. In Grup Fábregas we put at your disposal different component, of which we talk to you below.
Grup Fábregas takes care of your beaches
Shower and footwash. This tandem is essential and it has a mandatory presence on the beaches. Both are made of stainless steel and they combine perfectly together. In addition, these models have two water outlets or sprinklers, and timed pushbuttons, which helps prevent water waste.
Trash bins and recycling bins. It is easier to educate about the importance of beach cleaning when providing everything you need to put it into practice. That is why in Grup Fábregas we have about 50 different models of bins for you to place at every access of the beach.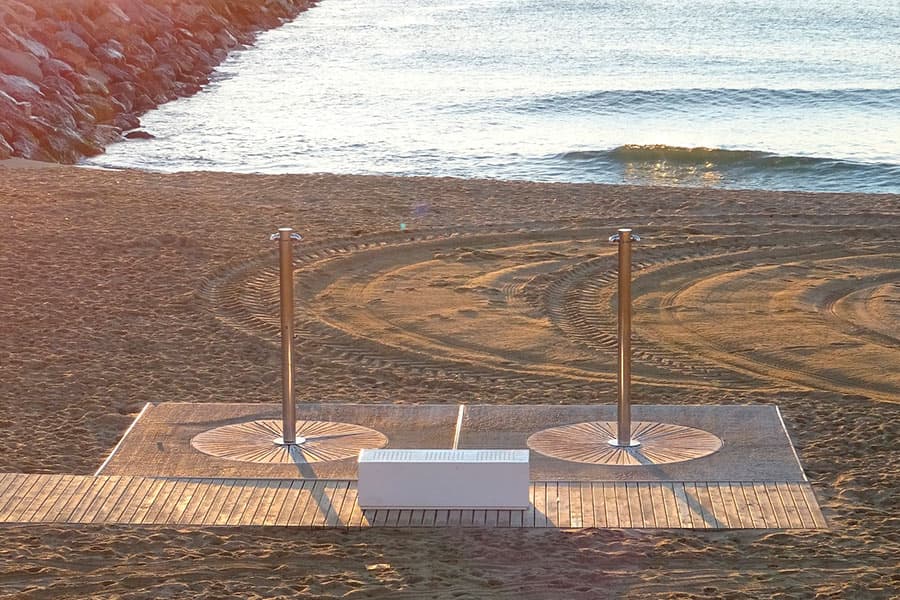 Children 's areas. To be sure, happy children mean happy parents too. Enabling zones for them is always a good idea. From the classic network pyramids to the most innovative children's games. Discover all the possibilities on our website.
In addition to checking the functioning (and replacing, if necessary), this beach equipment, it is necessary to carry out cleaning tasks: stabilization of the sand, oxygenation of the sand by ranking, collection of waste and/or algae…
Please contact Grup Fábregas to place your orders and be sure to leave the beaches in perfect condition after the summer holidays.